Landscaping to Add Beauty to Your Home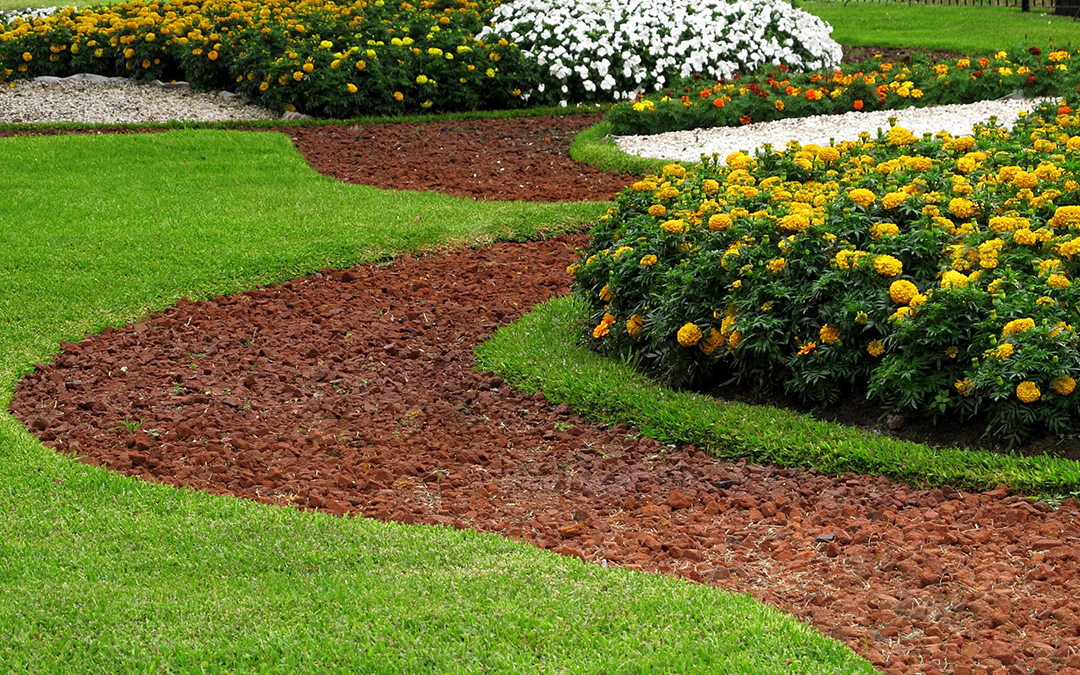 Landscape enhancements help to create a mood or personality that extends beyond the boundaries of your home or business. A fresh look gives a feeling of warmth and hospitality to outdoor spaces that benefit homeowners with added financial and emotional value.
Give your yard a burst of color!
Adding mulch is an easy way to perk up your yard. Mulch has many benefits for the soil and plant roots while adding color and texture to contrast greenery.  Mulch colors are available in red, black, gold, and cedar hues.
Newly planted areas can also update and transform the look of landscapes and patios. Creative plantings and plant varieties can beautify your home or business exterior as they add definition and privacy to your patio and other exposed areas.
We care about your plants.
Compliment your home or business with new plantings to add bright, seasonal color and textures all year long. One of the best projects you can do for your spring landscape is to plant a tree. The difference it can make to the aesthetic value of your property can last for decades.
Our experienced team uses their knowledge of grading, drainage, irrigation, and plant varieties to make sure that your plantings and plants get the proper care. Southern Coastal Property Maintenance ensures that your surroundings include beautiful, healthy plants in every season.
We care about your water saturation levels.
Water is the most critical part of keeping your new landscape looking great. An irrigation system can automatically control the operation of sprinklers in each watering zone for the distribution of adequate water to specific plant types.
Investing in an automatic irrigation system is a wise decision, as it will pay for itself over the years by saving you time, money, and water; built-in lawn sprinklers are the most efficient systems for water distribution. We design your irrigation system with consideration of Florida's coastal climate, map your landscape's irrigation zones by square footage and water source availability (GPM) as well as plant types within the landscape areas.
We care about your investment.
We can help protect your investment to ensure that it stays in good working order. Our irrigation services include installation, maintenance, and repair, which provides for opening your irrigation system in April and closing it in October, inspecting it at both times.
We care about your trees.
Arbor Care is essential to prolong the life of your Florida trees. Proper pruning techniques, and understanding how to prevent, identify, and treat infectious diseases is another benefit of the services we provide. Tree trimming improves the shape of trees as they grow, improving their longevity and health. Pruning of dead, brown branches during the dormant season encourages vigorous growth in the spring and is vital for the safety of the residents and the community.
It's important to note that Florida's different varieties and species have different pruning needs and techniques. To ensure your plants are pruned correctly at the proper time, contact our experts at SCPM. Our mission is to enhance your home with beautiful landscaping.
Take advantage of your less busy season now and call for a consultation before spring. We want to help you with all your landscaping concerns and get your landscape enhancements in place before the growing season.
As your landscape professionals, we can help you develop plans to bring each area of your landscape to life in the coming growing season.
Call us today: 877-455-0040, or contact us here We will be happy to share our ideas and discuss your landscaping needs.
1418 Seahawk Way
Palm City, FL 34990